Air Brush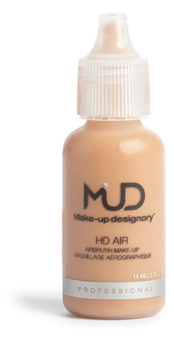 Developed specifically for use with the airbrush, this silicone-based formula goes on like make-up – rather than paint – to create sheer, beautiful coverage with a dewy appearance. Works seamlessly with any MUD cosmetic product. Choose from 22 shades, many of which have been formulated to exactly match certain MUD Cream Foundations, Cheek Colors, Highlights and Shadows. Also includes six colors for extra versatility when mixing and color-matching.


Quick Study
Colors can be used alone or blended with any of the other airbrush colors
Ideal for use with any MUD cosmetic product
Always shake well before use.
Directions:
Ideal for use with a double-action airbrush.
Hold the airbrush so that the tip of the forefinger rests on the button that activates the airflow.
Press down on the button to start air flowing through the brush.
Pull back on the button to start the flow of make-up.
The size of the spray pattern will vary, depending upon the distance from the tip of the airbrush to the face.
Air pressure should be set from seven to twelve pounds, depending upon the color being used.